Regular price
Sale price
$15.00 USD
Unit price
per
Sale
Sold out
Share
'Learning To Love Myself'
The perfect valentines gift for yourself, your friends, your mom, your sisters. Anyone in your life who needs to be reminded that they are worth loving. 
Valentine's Day has always been a non-event for me. I was a very introverted teenager who hung out with my mama every Friday night. I didn't date, and I didn't have a boyfriend until I met Michael. And while I was sad about that in the moment, the lessons this taught me in hindsight were so important. Every Valentine's Day, even though I didn't get presents from a boy, I would come home from school to my favorite treats and a love note from my mum. She told me all the things she loved about me that didn't have to do with my physical appearance. She told me I loved deeply and had a sensitive heart, that I was talented and hardworking. She turned Valentine's Day into a day of self-love for me. She helped me start to fall in love with myself. She helped me to become a whole person on my own. I love my husband dearly, but he doesn't 'complete' me. He compliments me and makes my life better, but I complete myself. And you complete yourself! 
That is what I wanted to display in this painting. 
I also wanted to include a mirror because I think mirrors hold a lot of pain for many of us. Years of analyzing and being critical of our bodies, or saying horrible things to ourselves that we would never dream of saying to another person. I want the mirror to be a place of self-love. I want to see who that girl is under the surface and love her completely. I am still working on this, and I think I'll be working on it my whole life. But creating something visual like this is going to help remind me that I am worth loving. 
I am on a mission to create artwork that would have been powerful to me as a young girl. I think seeing a painting like this every day as a child would have been incredibly impactful for me. 
I hope that this painting can serve as a gift and a special reminder to the men, children, fathers, brothers, and friends in your lives that need to be reminded that they are worth loving. They are beautiful and whole and complete just as they are. 
That is what Valentine's Day means to me.
Colors may vary due to monitor settings. 
I use a beautiful, heavy-weight, acid-free paper for my prints. Prints come unframed and signed by the artist. All of my prints are border-less.
Each print is placed in a clear plastic sleeve to protect from moisture while traveling to you, and mailed in a rigid envelope.
Colors may vary due to monitor settings.
View full details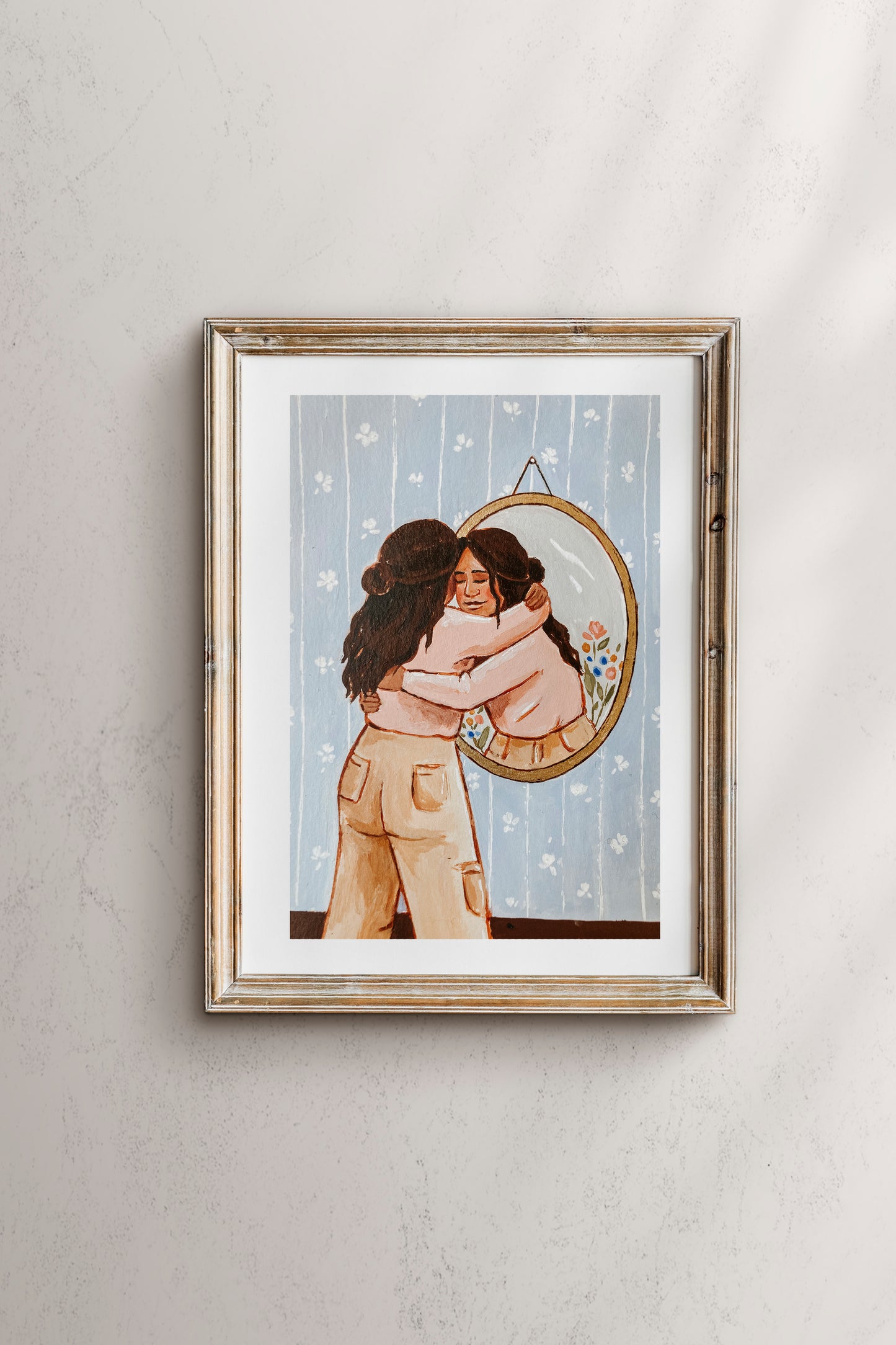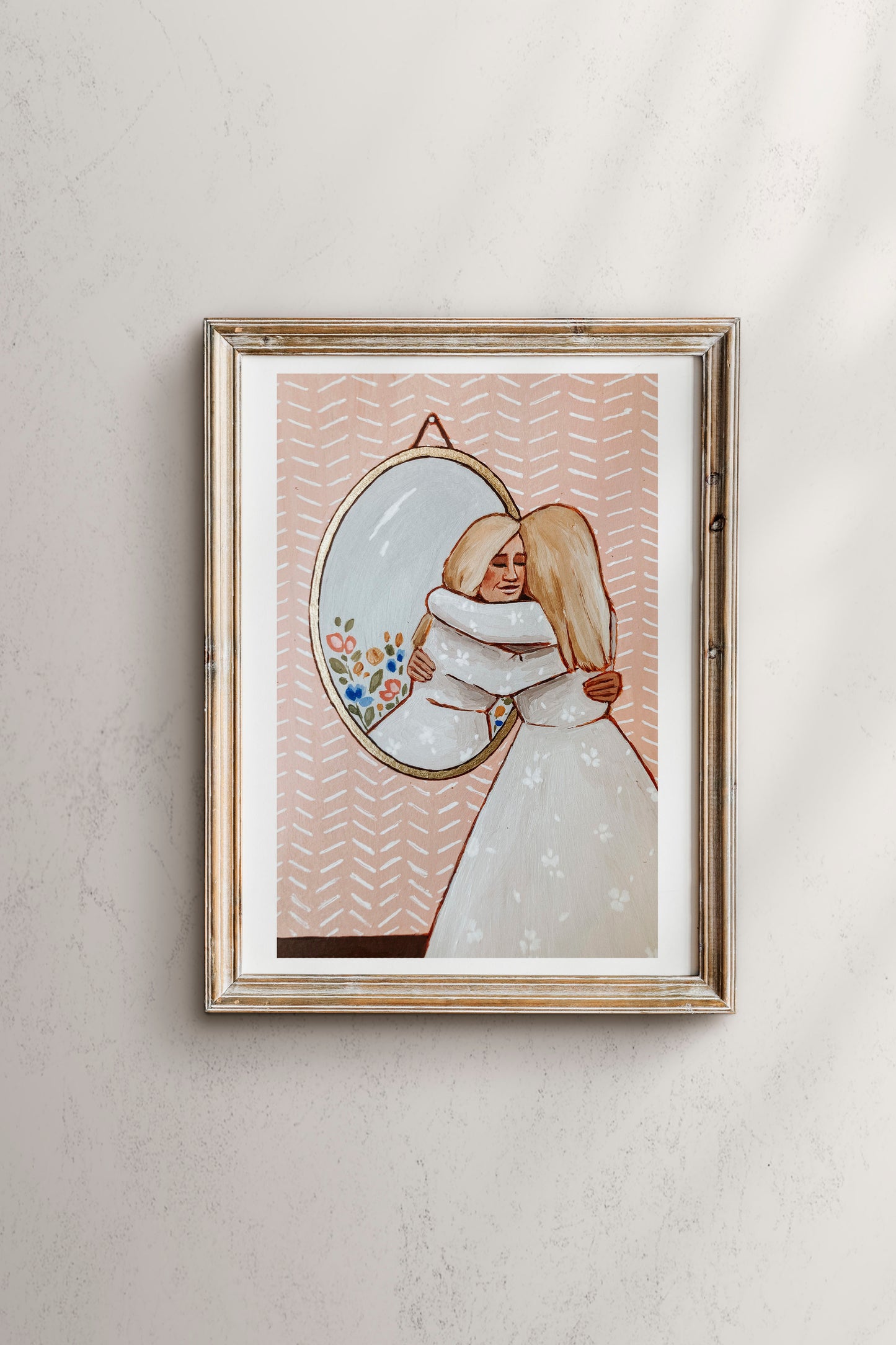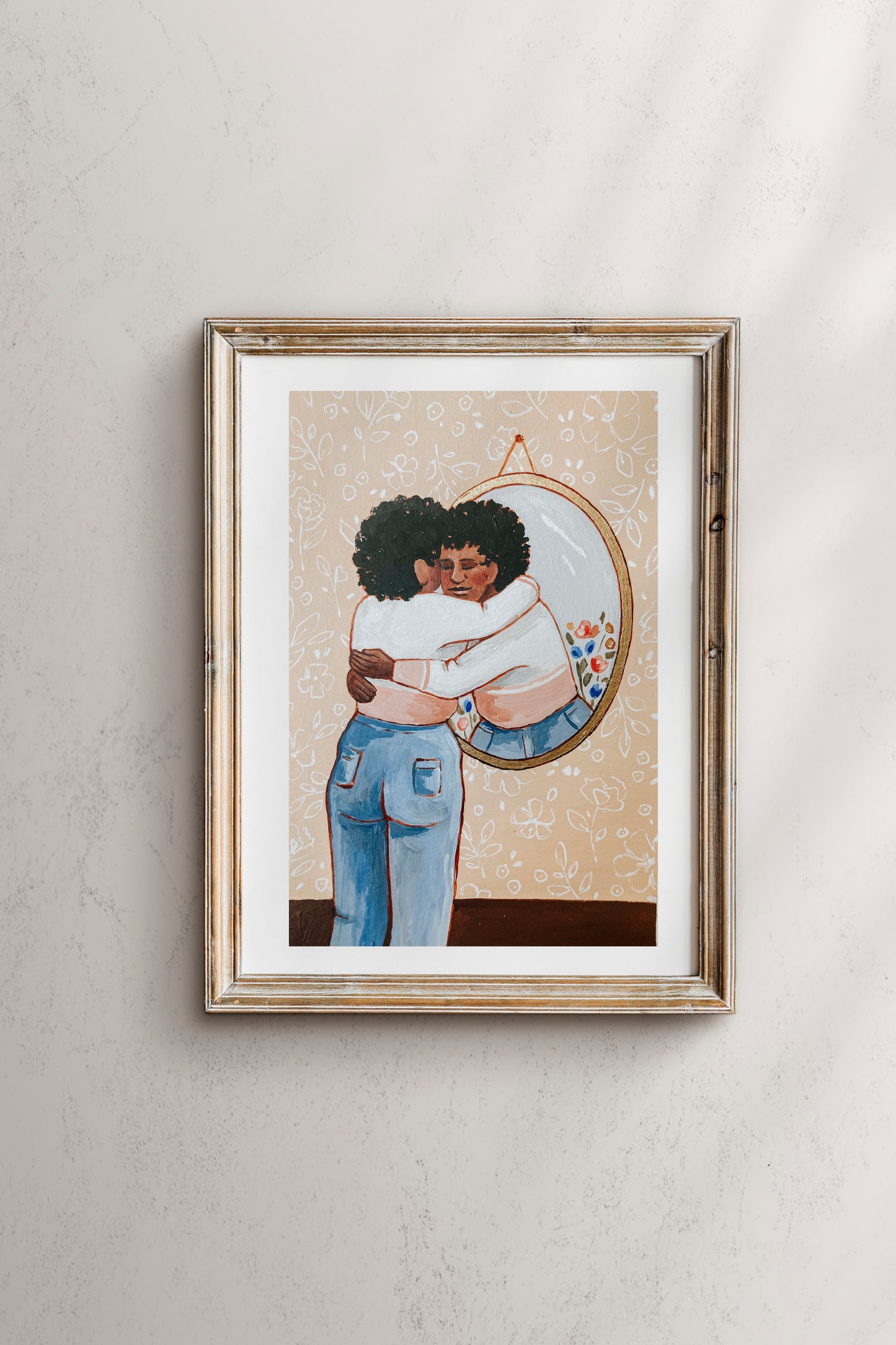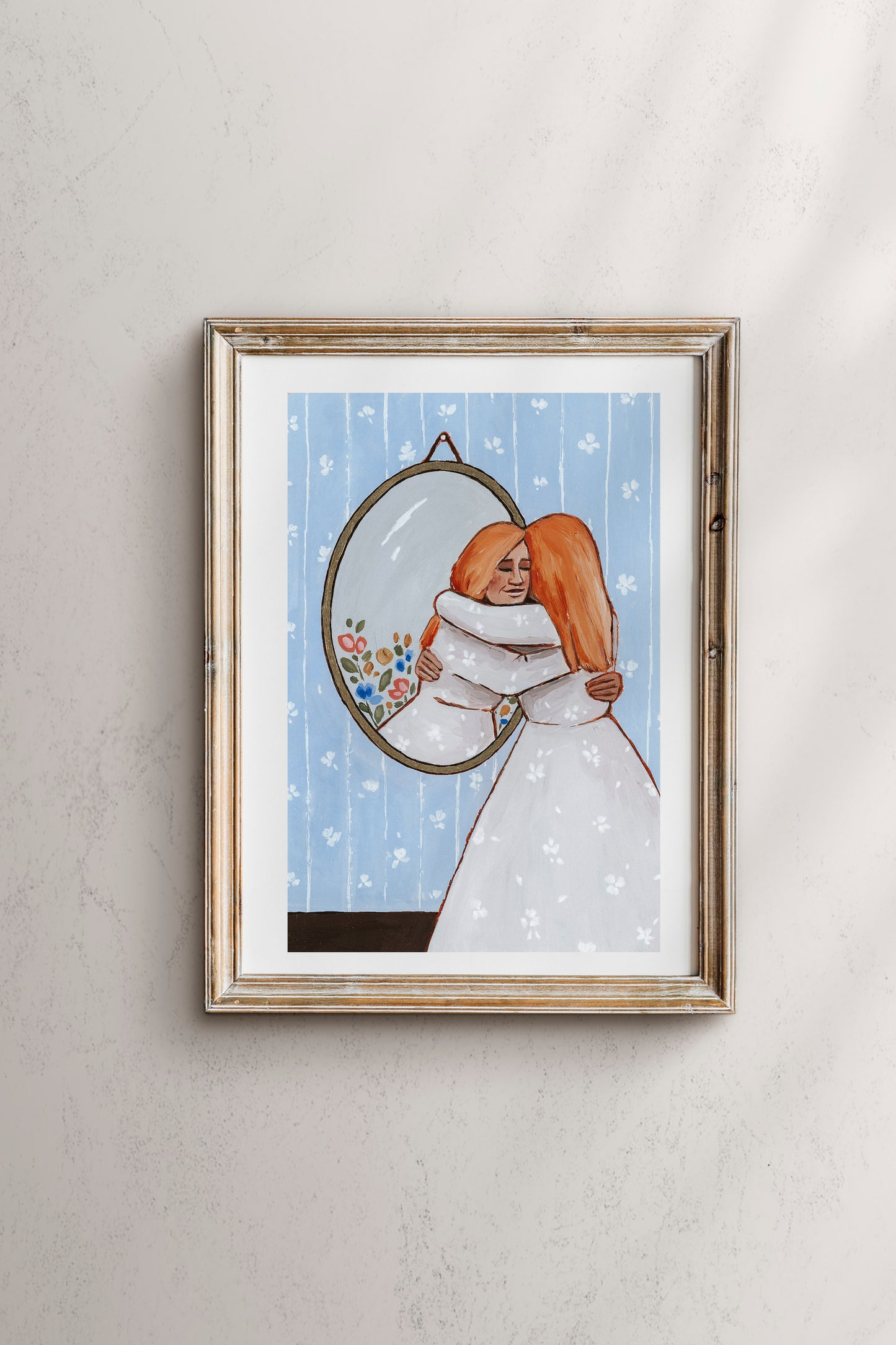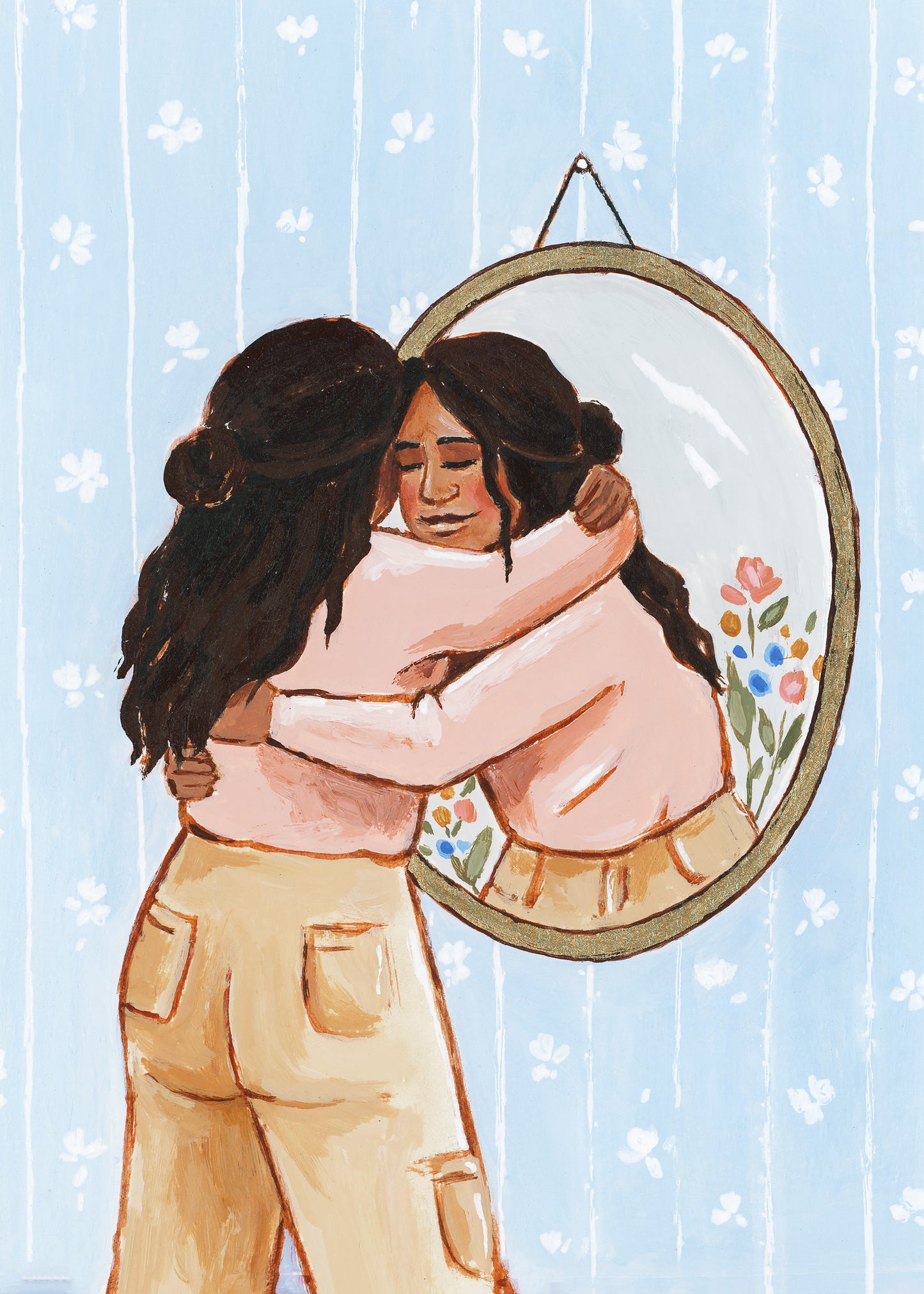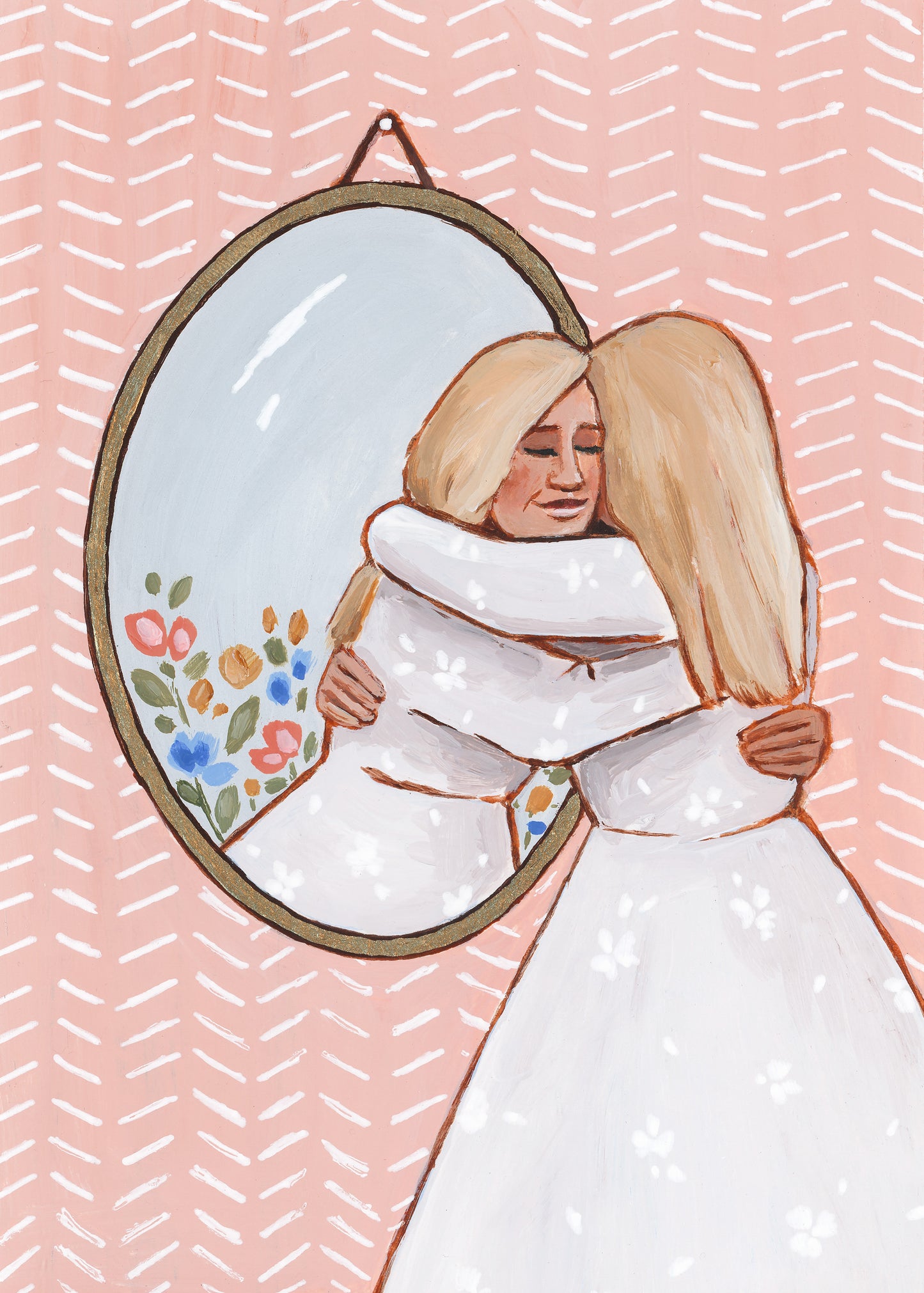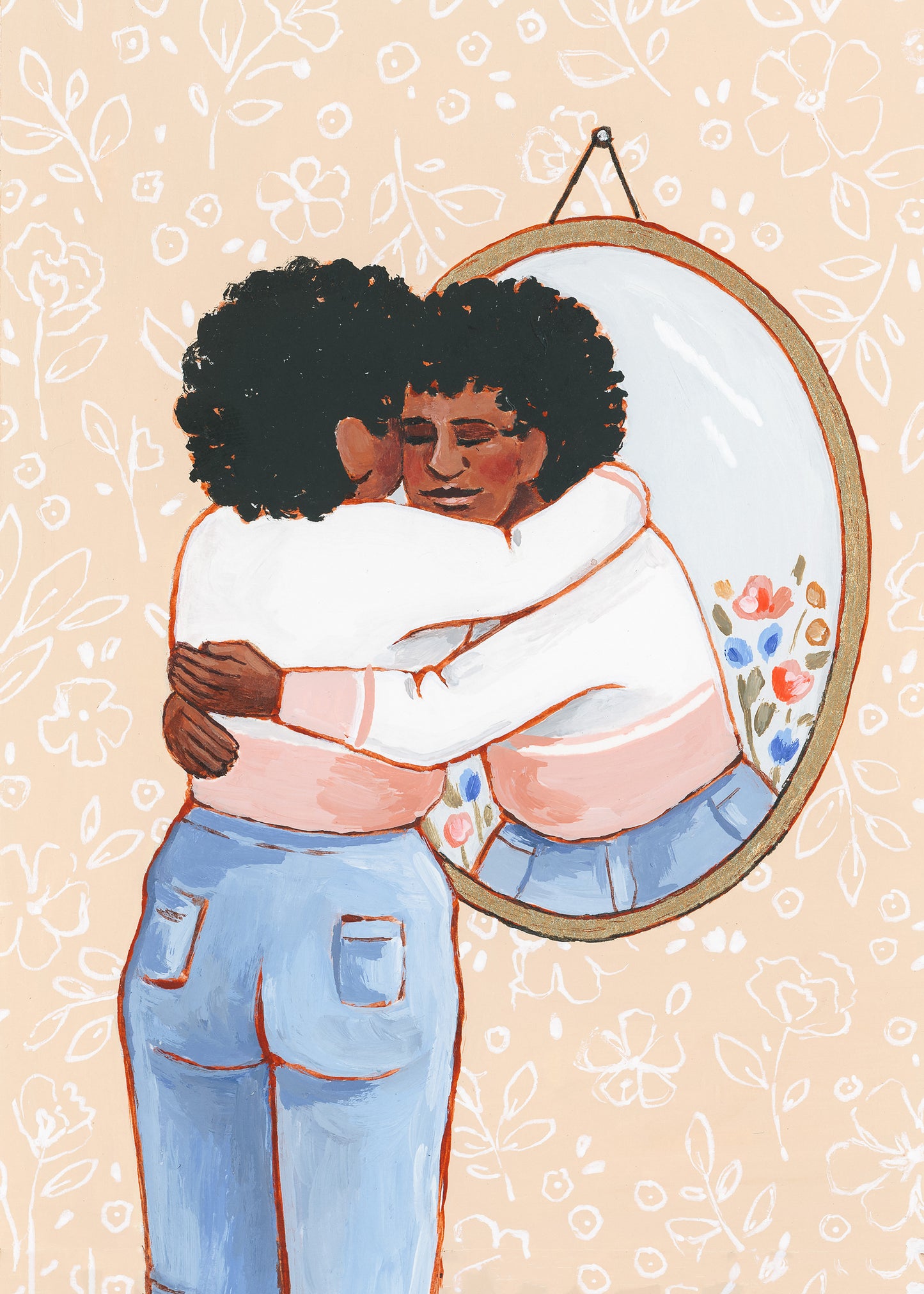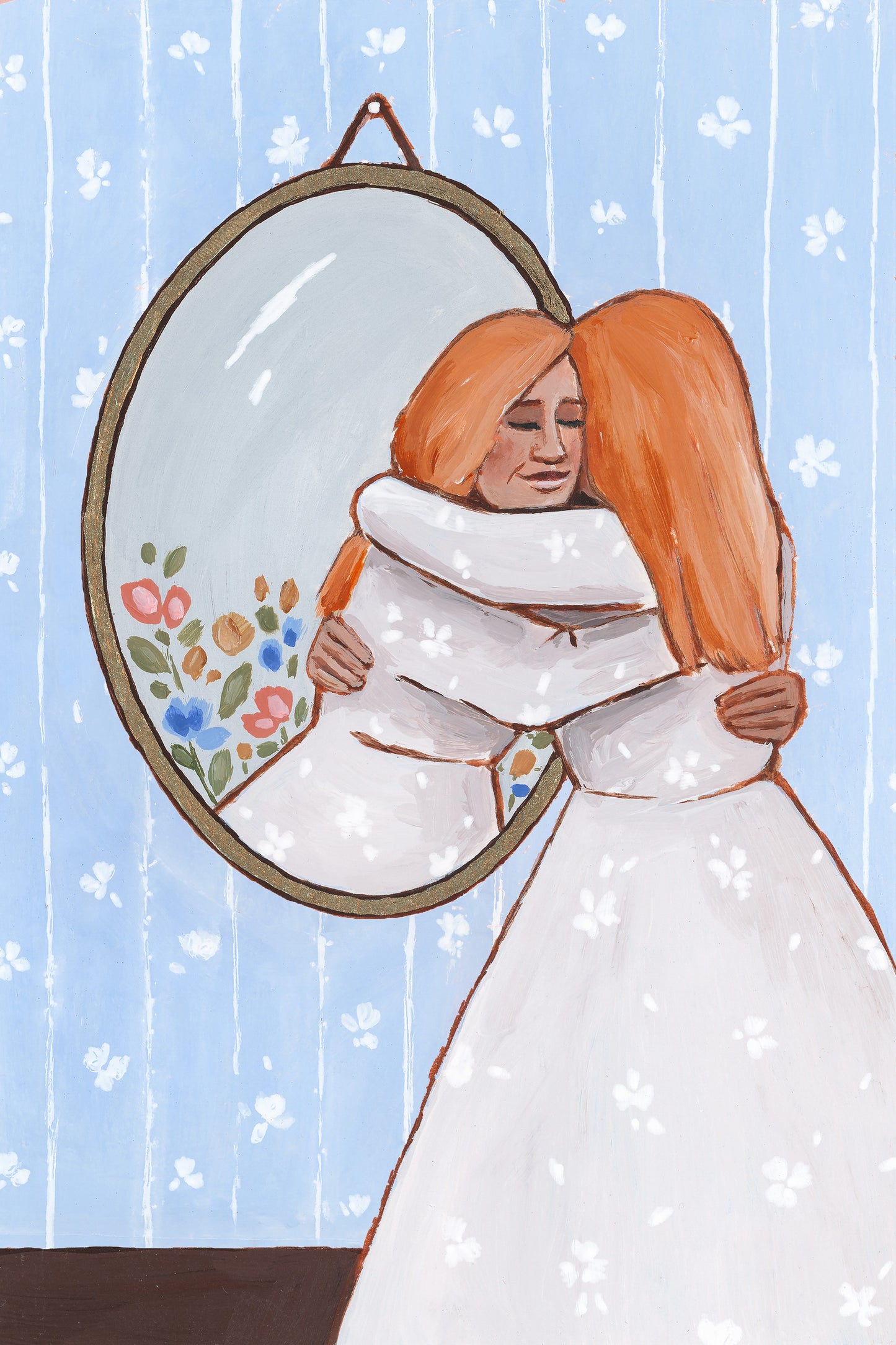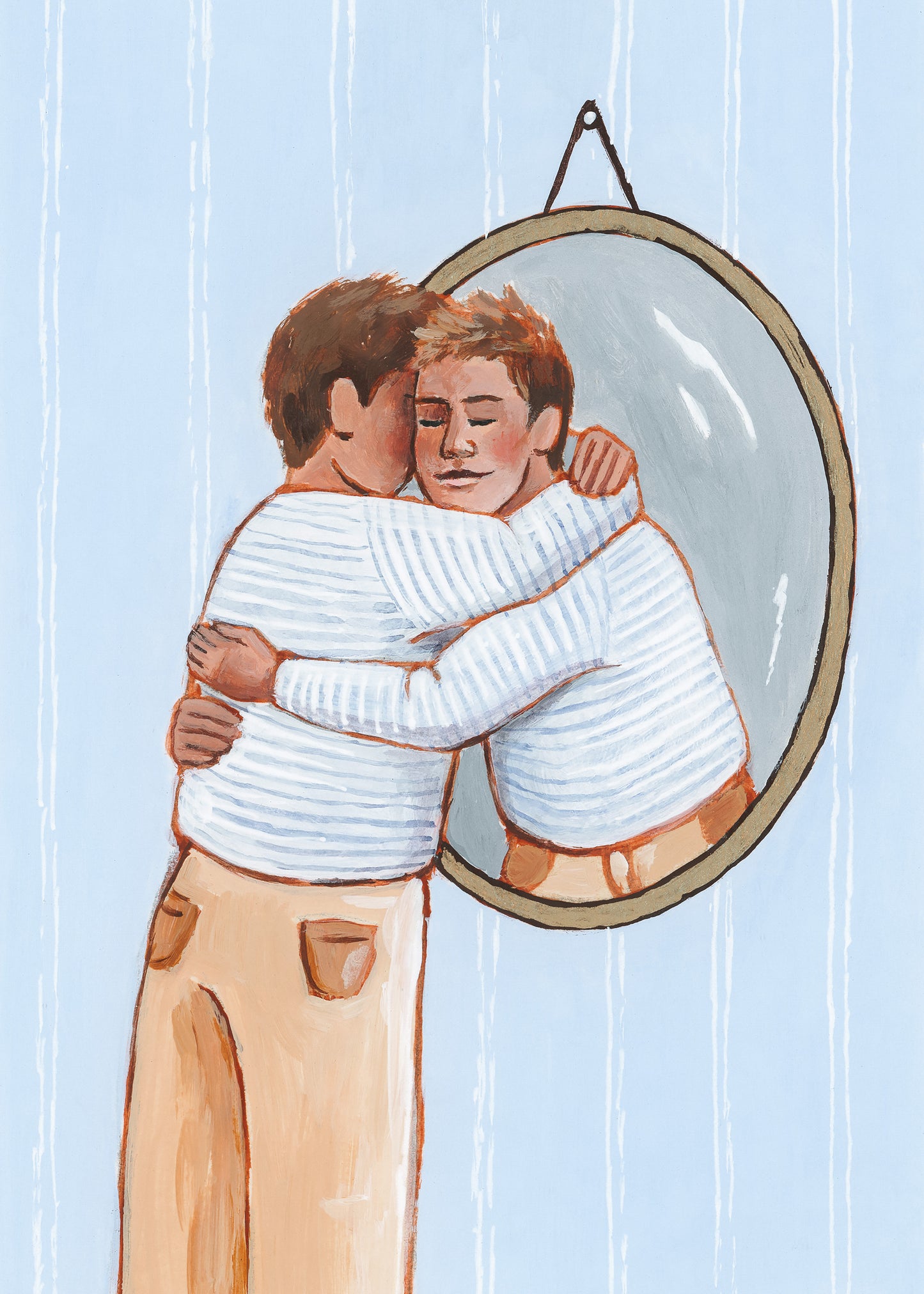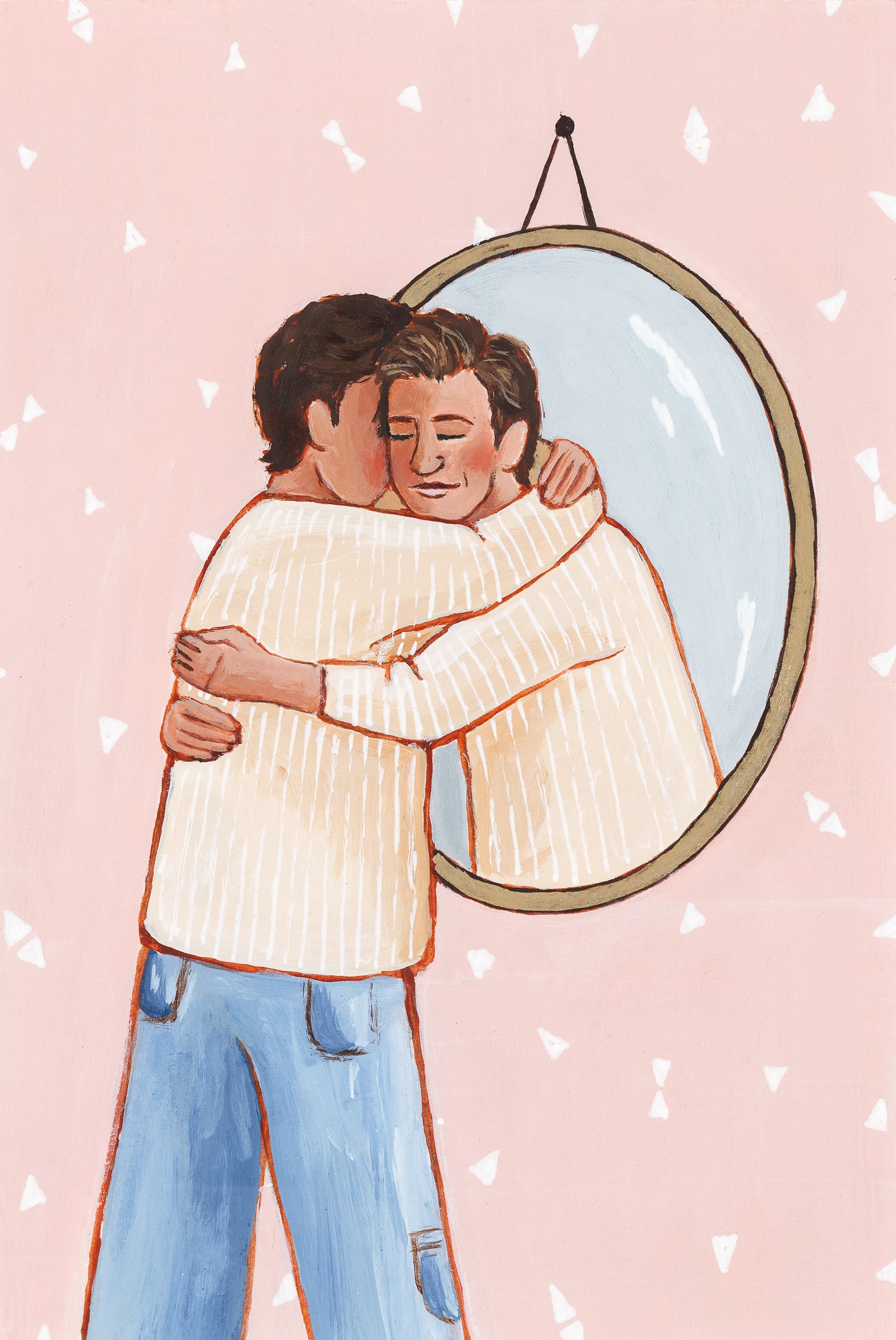 Product Information
Print Details

4x6", 5x7", 8x10" and 11x14" are printed on a beautiful matte 80# paper. These sizes are placed in cellophane sleeves and shipped in a protective stay-flat envelope.

16x20" and 18x24" are printed on archival fine art paper. These sizes are rolled and shipped in a heavy duty mailing tube.

I provide bulk pricing for my 4x6" prints. If you need to purchase more than 100 prints, please email me! If you purchase 100+ prints, the price per print is $0.95.
Canvas Details

Canvas prints are made lovingly by hand in the United States, and are shipped directly from my supplier to you. Reflective gold is NOT able to be added to the canvases due to the way they are made and the protective coating used on them. The gold colors in canvases will be a flat gold color as shown in the listing images.

Unframed Canvases have a wrapped image and a 1.5" edge. They have a sawtooth hanger in the back for easy installation.

Framed canvas prints come in either a white, black, or gold floater frame. Floater frames create the illusion that the artwork is floating inside of it. They elevate the artwork and the perfect finishing touch. Framed canvases have a 1.5" edge and come with a hanging wire in the back for easy installation.

Canvases are printed on thick archival grade, poly-cotton canvas. The canvas is pH neutral, acid-free, and will not yellow over time.

Canvases are perfect for gifting!
Shipping

I offer two different shipping options at checkout - standard shipping and priority shipping. Orders $75+ ship for free. Production time for prints is typically 7-10 business days. Shipping times vary from 1-5 business days (after production time) depending on which shipping option you select. During the holidays, shipping times may be longer.

Shipping Policy & FAQs

Returns

I do not process cancellations or returns at this time. I do understand that some things are out of your control, and always try to work with my customers when they have extenuating circumstances! If you need to contact me about any issue, please send me an email.

Email Me Here