Regular price
Sale price
$15.00 USD
Unit price
per
Sale
Sold out
Share
This is a detailed print of my orignal painting titled 'Connected'.
 Recently I've been struggling with my body image. I say things to myself I would never ever say to anyone else. In my stories recently I asked you guys about this, and SO MANY of you said you struggled with the same thing. I was overwhelmed with responses. This reaffirmed something one of my followers said to me a while ago - that our brokenness connects us. Truly the pain and trauma and difficulties we experience are what crack us open and make us vulnerable. Those cracks, although painful, let light and connection in. I can't describe the comfort and connection I felt discussing body image with you this week. Together, we are always stronger.
 So this is a piece about connection, vulnerability, and appreciating your body. A sister piece to a painting I did about a year ago. Inspired by body image struggles, Kintsugi, and Venus of Willendorf. In this painting I wanted to include a large range of body types. I truly believe that seeing yourself or some semblance of your body type in artwork is SO powerful. Imagine if we grew up seeing that. I chose to make these figurines look like clay statues because I love the idea that we are constantly being molded and shaped by the things we experience. And also because I have been heavily inspired by Venus of Willendorf, a famous statue, for many years. I think that she is simply perfect.In each of the figurines you can see different shapes, stretch marks, folds, lumps, bumps. Each is unique and each is a beautiful work of art All of these figurines are connected by Kintsugi (the Japanese art of repairing broken pottery by mending the areas of breakage with golden lacquer. It treats breakage and repair as part of the history of an object, rather than something to disguise). If you look closely, you can see that one of the golden Kintsugi lines is continuous, and connects each figurine to the other. To me this symbolizes that although we live all over the world and have completely different lives, the things we go through and experience allow us to connect to each other. Because we have all been broken in various ways at various times, we can mourn with those that mourn and comfort those that need comfort. Through that connection grows love. You did that for me this week. Thank you! I am forever grateful for the connections I have built here with you.
 I hope this piece helps some of you who need to be reminded that your brokenness is a beautiful part of you. Not something to be hidden, but to be celebrated.
I use a beautiful, heavy-weight, acid-free paper for my prints. Prints come unframed and signed by the artist. All of my prints are border-less.
Each print is placed in a clear plastic sleeve to protect from moisture while travelling to you, and mailed in a rigid envelope.
Colors may vary due to monitor settings.
View full details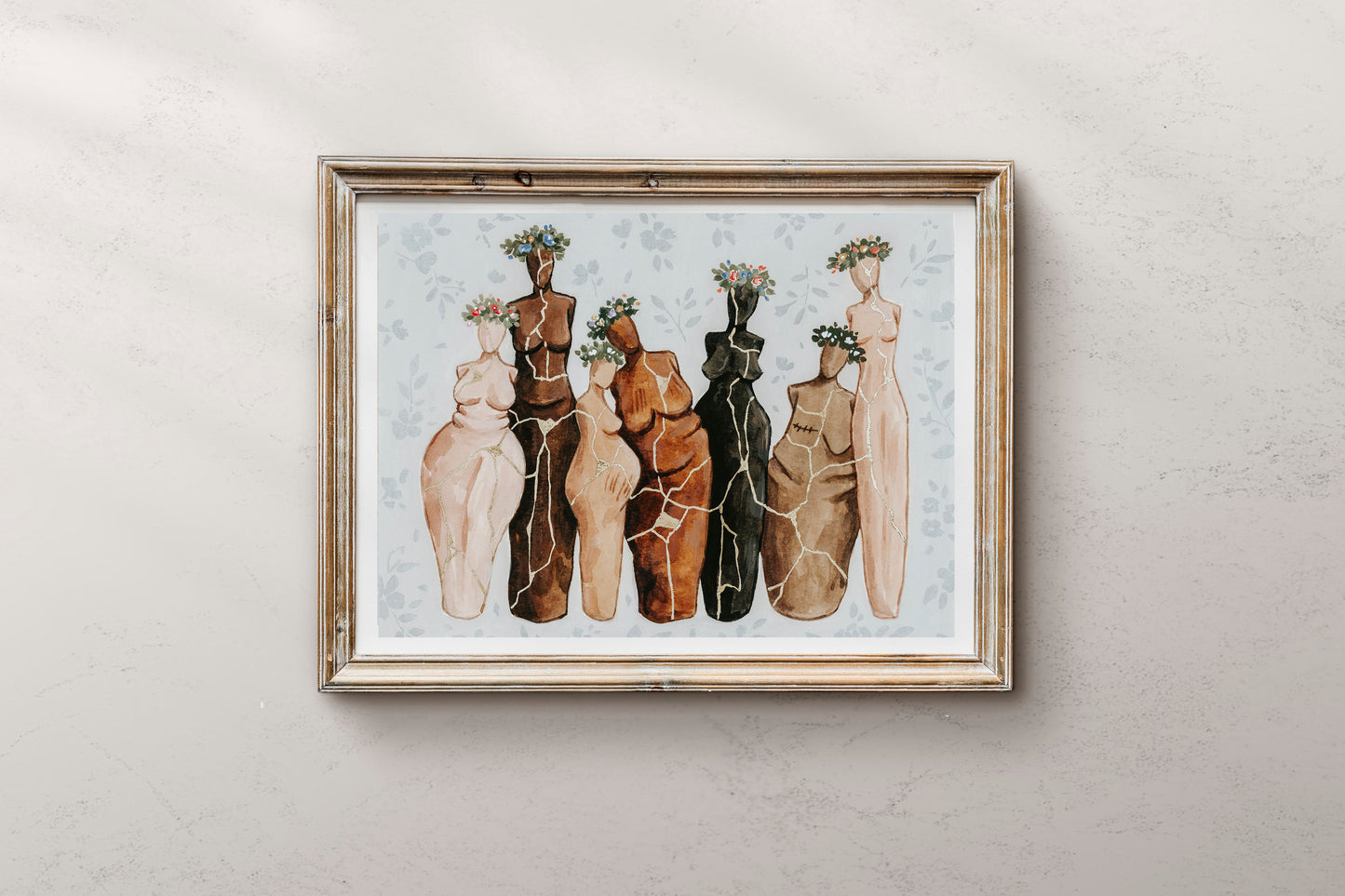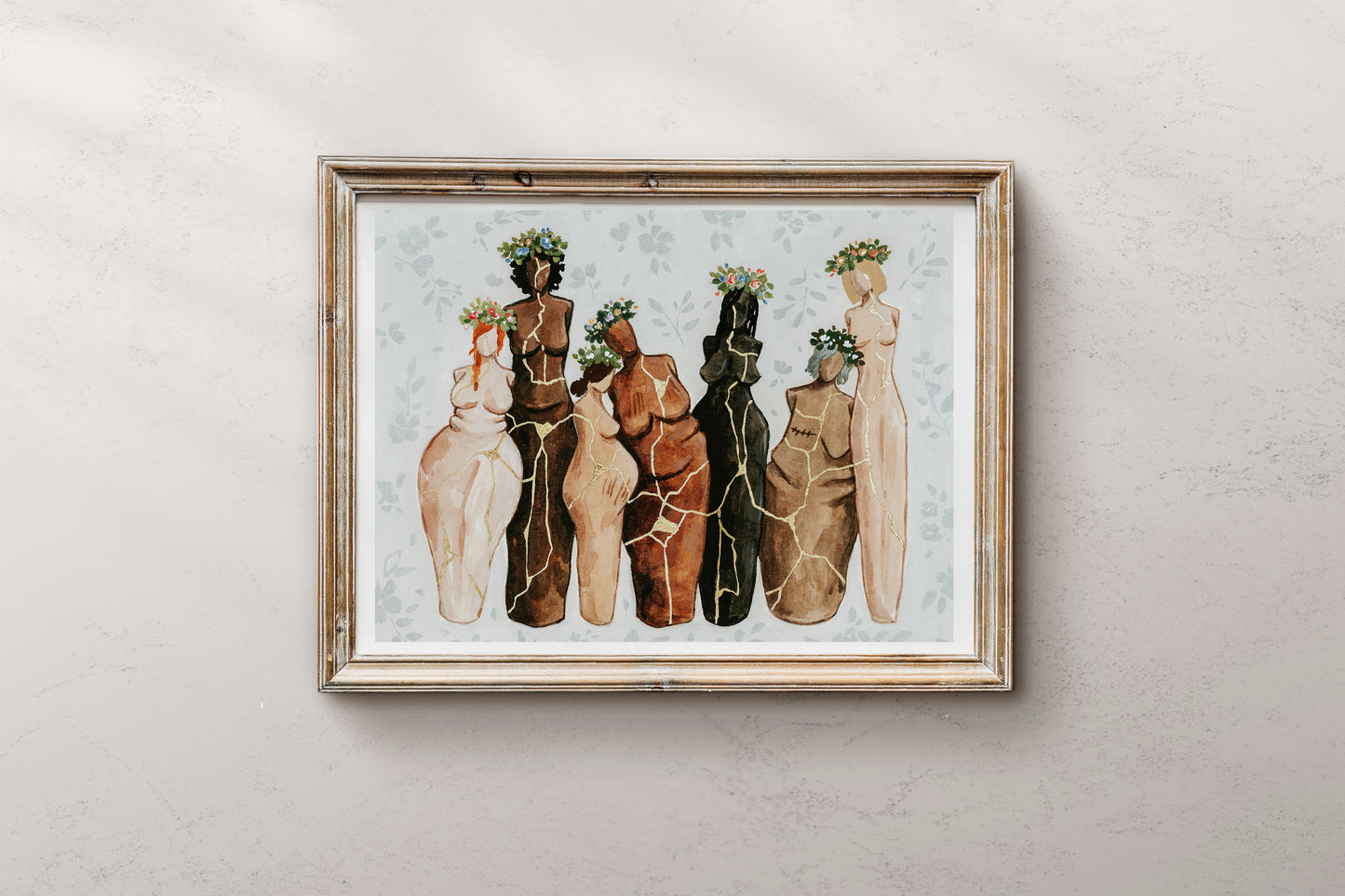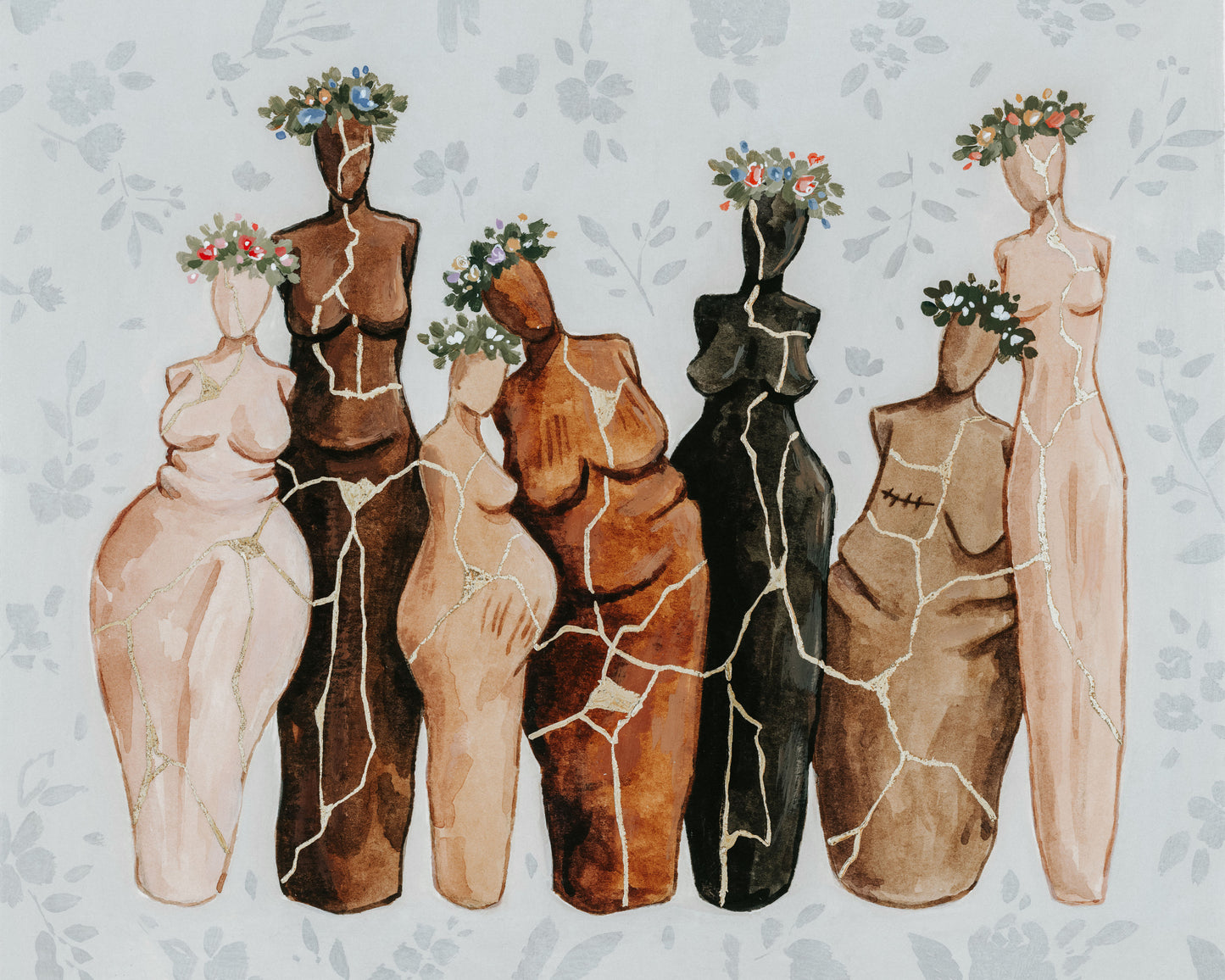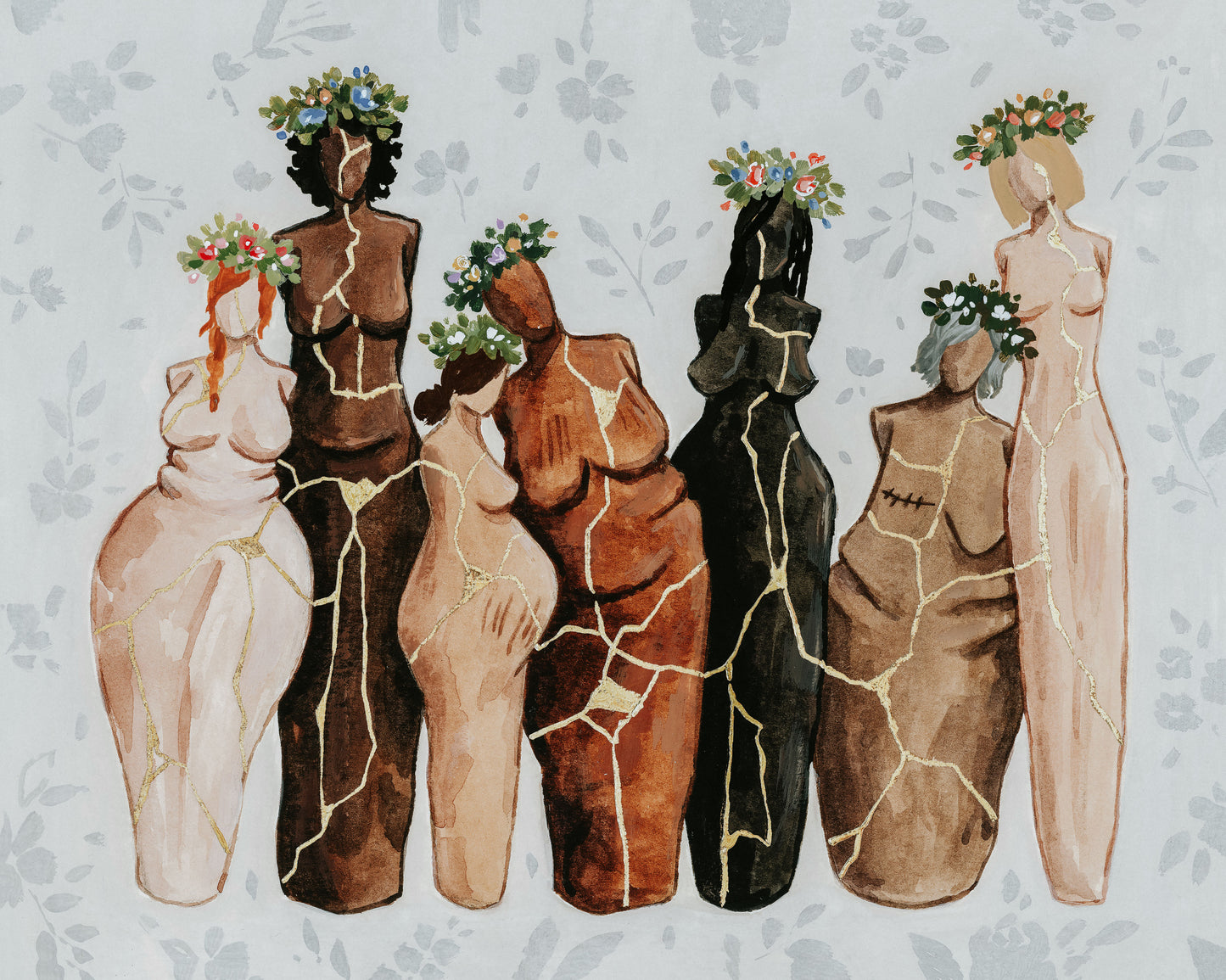 Product Information
Print Details

4x6", 5x7", 8x10" and 11x14" are printed on a beautiful matte 80# paper. These sizes are placed in cellophane sleeves and shipped in a protective stay-flat envelope.

16x20" and 18x24" are printed on archival fine art paper. These sizes are rolled and shipped in a heavy duty mailing tube.

I provide bulk pricing for my 4x6" prints. If you need to purchase more than 100 prints, please email me! If you purchase 100+ prints, the price per print is $0.95.
Canvas Details

Canvas prints are made lovingly by hand in the United States, and are shipped directly from my supplier to you. Reflective gold is NOT able to be added to the canvases due to the way they are made and the protective coating used on them. The gold colors in canvases will be a flat gold color as shown in the listing images.

Unframed Canvases have a wrapped image and a 1.5" edge. They have a sawtooth hanger in the back for easy installation.

Framed canvas prints come in either a white, black, or gold floater frame. Floater frames create the illusion that the artwork is floating inside of it. They elevate the artwork and the perfect finishing touch. Framed canvases have a 1.5" edge and come with a hanging wire in the back for easy installation.

Canvases are printed on thick archival grade, poly-cotton canvas. The canvas is pH neutral, acid-free, and will not yellow over time.

Canvases are perfect for gifting!
Shipping

I offer two different shipping options at checkout - standard shipping and priority shipping. Orders $75+ ship for free. Production time for prints is typically 7-10 business days. Shipping times vary from 1-5 business days (after production time) depending on which shipping option you select. During the holidays, shipping times may be longer.

Shipping Policy & FAQs

Returns

I do not process cancellations or returns at this time. I do understand that some things are out of your control, and always try to work with my customers when they have extenuating circumstances! If you need to contact me about any issue, please send me an email.

Email Me Here